Welcome to Merle Norman Cosmetics and The Nail Salon, where we are dedicated to providing you with excellent products along with relaxing and top-of-the-line manicure and pedicure services.
Services provided by our staff of licensed professionals are exceptional and made just for you because everyone is unique and has a style all of their own.
Treat your feet to a relaxing pedicure…your hands to a Shellac manicure…
If you are in the area and need some "me" time, this is the place for YOU!
​I opened up this studio in May of 2008 at its original location in downtown Pella. It has always been a passion for me to work with women and help them feel the best about themselves. This is more than a job to me. Where else can you work where you have such a positive and satisfied clientele? Nowhere!
I am a mother and an 'Ama' (Grandma). I am a Pella native and many of my extended family members still live here. I have lived in a couple of different cities in the past, but there is no place like home! Pella is where my heart is and always will be.
Owning my own business doesn't leave too much time for extracurricular hobbies, but any available time to spend with my "grands" is perfect to me.
It is my desire that you will immediately feel at home when you walk through our door. From being greeted with a smile all the way until you have finished your time with us, you will know it is all about you and what you want.
Let us help you let the worries and stresses of everyday life fade away while you enjoy some special time just for yourself.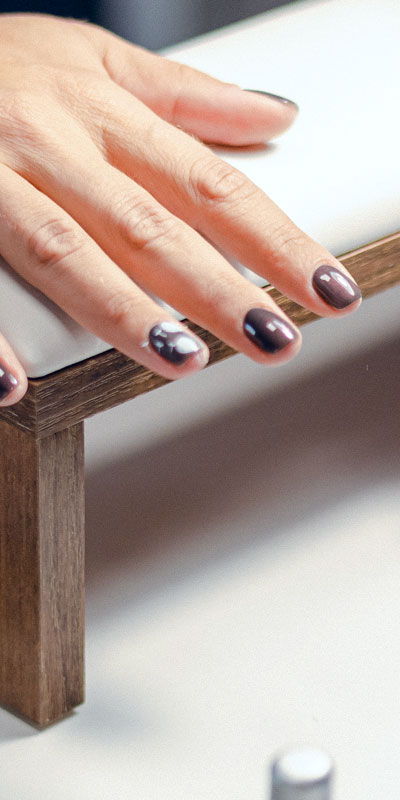 Pedicure
Just got my toes done today! the staff is really friendly and the treatment was amazing! Will definitely be going back!
 
~ G.W.
Wedding Nails
Fantastic job with my nails for my wedding! They're subtle, beautiful, and I love them!
~ K.D.
Manicure
If I could give them a 10 I would!!! Always look forward to my appointment. The staff is just amazing!!! My nails away look amazing!!!! 
~ S.G.